Rev. Seth Carrier-Ladd, Minister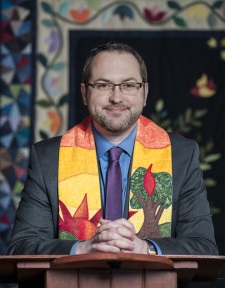 Hello! I'm so glad you're interested in learning more about our church and Unitarian Universalism. If you haven't had a chance to visit us in person yet, I hope you do, because we have a beautiful community of good-hearted people here who care deeply for and support one another. I don't take credit for this, they were like this when I got here four years ago – I just feel lucky to be able to be part of it.
A little bit of background about me: I attended Union College for my undergraduate degree, where, after a near catastrophic miss as a Math and Computer Science double-major, I received a B.A. in East Asian Studies. I have also been incredibly fortunate to have had multiple opportunities to live, study and travel abroad, including spending my junior year studying in Japan, six months living and working in London, a month in China volunteering, a trip to Australia for the 2009 World Parliament of Religions, two weeks in Senegal, and a Unitarian Universalist service trip to Haiti where we helped lay the foundations for the first three houses in a 100-home eco-village for refugees from the earthquake in Port-au-Prince. If you'd like to hear more about any of these experiences, or would just like to learn more about the church or Unitarian Universalism in general, please make an appointment so we can sit down and talk. Having a conversation would then also be a great opportunity for me to learn more about you!
If you come visit us on a Sunday, you may get a chance to meet my family  – my wife Elizabeth (also a Unitarian Universalist minister, and currently our Youth Group Coordinator), our daughter Mira (age 3), our middle child Theo (age 2), and the newest addition to our family, Elias, who was born in July of 2017.  This is another area of my life where I'm very lucky – I have a beautiful and talented wife and amazing children.
If you'd like to learn more about the church, please either call, 765-288-9561, or e-mail me at seth@uuchurchmuncie.org. I look forward to getting to know you, whether you are a current member of the church, a first-time visitor, or anywhere in between. Meaningful relationship based on inclusive love and respect, where we learn together and support each other on our religious and life journeys – this is the foundation of our church community. I hope you will stop by and visit us and see if you might like to be a part of it!
peace and blessings,
Seth
Rev. Seth's Sermons – Archives
Rev. Seth's Newsletter Articles – Archives
Photos for media use: Full-resolution JPG | TIF
Rev. Julia Corbett-Hemeyer, Community Minister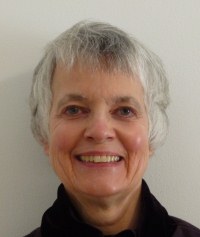 Julia Corbett-Hemeyer became our Community Minister in 2011. A graduate of The Ohio State University, the Methodist Theological School in Ohio and Vanderbilt University, she was ordained as an interfaith minister after retiring from 24 years of teaching world religions and religion in the United States at Ball State University. A self-described "Unitarian Universalist/Buddhist/religious humanist mutt," she now focuses her skills and interests on pastoral ministry.
Julia is a spiritual mentor/advisor in private practice, a part-time hospital chaplain, a meditation teacher and an author. She consults and officiates for weddings, commitment ceremonies and other rituals and celebrations, and serves as a pulpit supply minister and guest speaker. She is the founder of Many Paths Interfaith Ministries, endorsed by the UU Society for Community Ministries. Her avocational interests include reading, hiking, travel, crossword puzzles, and physical fitness.
Following the death of her late husband Mike Corbett, Julia married Tom Hemeyer, who teaches Audiology at BSU. Between them they have two daughters, two sons, two grandchildren, and assorted animals.
Julia can be contacted by telephone at (765) 284-6936, or via e-mail at julia@uuchurchmuncie.org. You may also speak with her before or after church service.
Rev. Julia's Sermons- Archives
Rev. Julia's Newsletter Articles – Archives