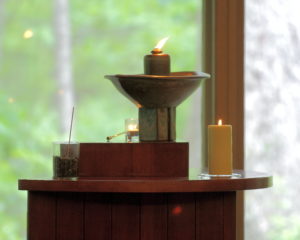 We have two worship services every Sunday that begin at 9:15 am and 11:15 am, with a Social Hour in between from 10:15am-11:15 am for conversation and connection. We encourage you to arrive a few minutes early so that you can find a seat and get settled before the service starts, and so that we can greet and welcome you!  Children and youth are welcome at both services – for more information on our Sunday morning Children's Religious Education programming, click here. Our address, directions and parking information are all available here.
The root meaning of the word worship is to shape something of worth, or to give value to something, which is what we try to do on Sunday mornings. Reverence and gratitude are a valued part of our worship service, in which we strive to create opportunities for inspiration and contemplation, critical reflection, connection, and celebration. Music is an essential part of every service – we listen, we sing, and we are inspired by the fabulous offerings from our choir. We also light our chalice each Sunday at the start of the service, which represents the light, the love, and the hope of our community. The flaming chalice as a symbol of Unitarian Universalism has a powerful origin story that continues to define important aspects of our faith tradition today.
Sermons are offered are on a variety of topics, and our ministers draw from a variety of sources to create a worship service including music, story, poetry, and meditation. Our Unitarian Universalist Sources include the wisdom of the world religions, results of science, personal experience of life's mystery, and the words and deeds of those who exemplify compassion, justice, and the transforming power of love.
Rev. Victoria Safford reflects further on the nature of Unitarian Universalist worship services,
"In our liberal communion, worship has no direct object; the verb is intransitive. We don't worship any single thing but draw instead upon the meaning of the Old English weorthscipe: 'to consider that which is of worth, to hold that which is worthy.' We remember what has worth, once a week, for a little while, together. To honor what is worthy of honor, to notice what is worthy of notice, to grieve the losses and the sorrows that are worthy of our tears, to tell stories about and sing about, to celebrate, to draw closer to, to be more mindful of what matters; to name, in the clearest possible language, with the best possible music, through the deepest possible silence, a few significant things."
Children and Parents
Relax! Children were born full of wiggles – don't feel you have to suppress it. Children are always welcome in the worship service, and in fact begin every Sunday morning in the service with their families. We sing the children out to their religious exploration classes after the Story for All Ages. Nursery care for infants and toddlers is available starting at 9:00 am for those who wish to attend Adult Religious Education classes, and ends after the service at 12:30pm.
Every. Single. Sunday. Food Drive
In an effort to help the food insecure within the friends and members of our own church community, we bring items to donate to our food pantry Every. Single. Sunday. Baskets are available on the way into the sanctuary before the service to receive your donations of canned or shelf-stable food goods, as well as toiletry items and cleaning products. Our youth bring these donations forward during our church service as a reminder of how we live out our social justice ideals.
Show you care!  When you shop each week, please add some of these to your cart:
Proteins – peanut  butter, canned chicken or tuna, canned beans
Fruit – peaches, pears, applesauce
Vegetables – yams, green beans
Carbohydrates – pasta mixes (complete meals), corn muffin mixes
Toiletries – shampoo, toothpaste and toothbrushes, toilet tissue, laundry and dish soap in small containers, razors
Read the eBlast each week for specific suggestions for items needed based on the current supplies in our church food pantry.
Gaps in our church food pantry will be filled first before taking extra items to Christian Ministries Food Pantry.
Those in need may visit our food pantry on Sundays before or after the service, and Tuesdays at the 6:00 pm Body Life dinner.
Wondering when we do this?  It's Every. Single. Sunday.
Themes
Theme-based ministry means that we've selected a theme, such as forgiveness or hope, to focus on each month during the main church calendar year. Themes encourage us to explore our faith and Unitarian Universalist identities in greater breadth and depth. Most sermons in a given month will focus on the theme, as will some adult religious education classes. Our 2017-2018 themes are:
September – Welcome
October – Story
November – Abundance
December – Hope
January – Intention
February – Perseverance
March – Balance
April – Emergence
May – Risk
June – Blessing