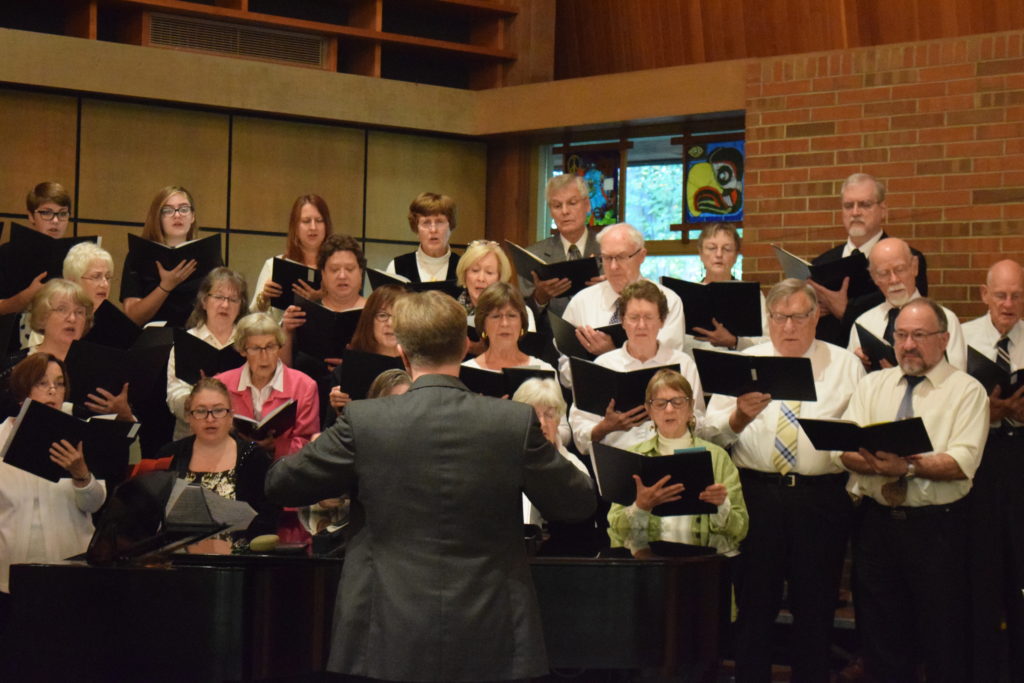 We Like to Sing
We love singing together, drawing from the two main UU hymnals, Singing the Living Tradition and Singing the Journey. While special music from our Music Director, Jim Helton, ranges from classical piano repertoire to jazz, including his own improvisations on favorite hymns, we alos enjoy special music from congregants and Ball State students and faculty that range from medieval choral to Celtic to folk to classic rock. Our sanctuary is a beautiful space for listening to music, so we love to host concerts. Jim Scott and Traveler's Dream, plus musicians from the Ball State School of Music, have provided some great evenings of entertainment.
Do You Like to Sing?
Join the Sanctuary Choir. We are a robust group who loves to have fun making music. The risers might seem full on a Sunday morning, but there is always room for more. (And we can build more risers!) From the pictures you'll notice that we are a multigenerational choir—at least once you've reached upper middle school age and are ready to engage in an energetic weekly rehearsal. We welcome everyone who can match pitch; prior musical training is NOT necessary. The choir rehearses on Tuesday evenings, 7:30 – 9:00 pm, and we always follow these sessions with some fine refreshments. Childcare is provided if you give us advanced notice (usually by the prior Friday).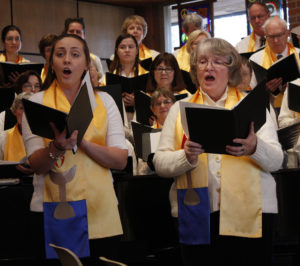 The choir follows a school-year calendar, commencing around the end of August, singing into the month of May. We present to the congregation approximately one Sunday a month, especially great for those of you who like to be involved in a variety of church activities. We sing a large variety of music that celebrates the earth, seasons, and (most of all) UU ideals, ranging from pop/jazz to traditional classical repertoire—truly something for everyone. An added convenience—come by 6:00 to the weekly Body Life Dinner (potluck) and bring the family.
If the Tuesday rehearsal schedule is problematic for you but you might like to offer your talents toward a Sunday service now and then, Jim still would love to meet you and discuss possibilities.
Do You Play an Instrument?
Jim would like to meet you! We always are looking to expand the variety of musical styles and talent that we present in our worship services. All ideas welcome!
About Our Director of Music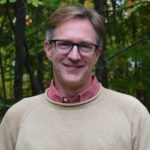 Jim came to Muncie in 2000 to join the piano faculty of Ball State University, where he is professor of music performance. In 2002 he began playing for our choir. His role gradually expanded, and he has been director of music since 2006. Though a classical musician by profession, he grew up in Nashville with a mother who was an active pianist in the music industry and a grandfather who was a ragtime pianist and had a Dixieland band. The apple doesn't fall too far from the tree.