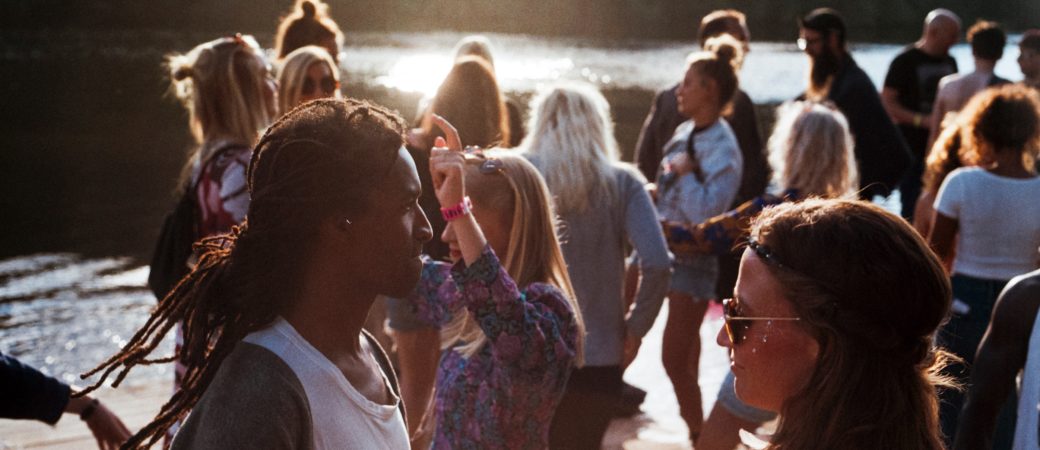 "Uh-oh! The delivery person left my picnic table in the front yard!" Kristen Schnell, of Austin, Texas, had certainly meant for it to be delivered to her back yard where her family planned to use it. Nevertheless, there it sat. Then she had an idea. What if she left it where the delivery person put it? What if her family moved some of their usually-indoor activities like homework, reading, and just hanging out from inside the house to their front yard? She painted the table a brilliant turquoise and later on sat down at her table. A neighbor whom she had not met, despite living three houses apart, stopped by. Her turquoise table became more and more a focus for neighborhood gatherings. Eventually, she founded theturquoisetable.com with the goal of enabling more people to connect in this easy, casual way. She's also written a book, The Turquoise Table. I recently read the account of her venture in the June issue of Good Housekeeping.
Like Schnell, I remember growing up in a neighborhood in which residents were "front yard people" who routinely spent time outdoors, in their front yards, where everyday interactions with neighbors and friends happened easily. As time has gone on, we're become both "indoor people" and "back yard people." Those of us who spend time outdoors are more likely to sit on our back patio or deck, or play in our back yards, than in the front. Older houses were usually or often built with large, sweeping front porches that people frequently used. Then, for quite some time, houses were rarely built with these expansive front porches (my own included). Thankfully, in newer construction, and particularly in planned, intentional communities, front porches are making a comeback.
In my June column, I concentrated on practices for grounding and centering ourselves, with just a couple of references to those that engage us with other people. In this column, I want to home in more on some practices that can help us engage with other people. Kristen Schnell's story struck a responsive chord with me. It spoke to the desire I feel to be better connected with my neighbors. That's part of a larger desire for connection. No, we haven't built a front porch. Along the way, however, I've discovered several ways to build in human interaction into my life. These are not deep friendships, mind you.
Just being outside is a good start. I admit to hiding indoors to escape Indiana's withering heat and humidity, but when the weather allows, simply being outside gets me in touch with others in my neighborhood who are also outside. Both dogs and grandchildren are instant conversation-starters! I also create welcome baskets for people new to the neighborhood. I used to make baked goods, but those have gotten difficult because of food preferences and allergies. Fruit is usually OK. I've not yet organized the block party my former neighbor and I discussed. Neither of us got to it, and then she moved. Next Fall or Spring?
I avoid drive-throughs when possible. I enjoy the brief interaction with the bank teller or the barista. When we grocery shop, we try to get in a check-out line staffed by one of our "regular" people, several of whom we've gotten to know enough to exchange pleasantries I also strike up conversations with people standing in line with me. These are certainly not deep connections, but they are meaningful because they bear witness to the humanity of all of us. The check-out clerk isn't just "the clerk." She is a human being like myself.
There are many ways we can connect with a community—all sorts of communities, in all sorts of ways. I recently found out that the Northwest YMCA has a community garden. CSAs (community supported agriculture) links producers directly with consumers. Visit the farmer's markets and connect with the producers there. If you enjoy yoga, find a group to practice with. Connections can also be very informal—a play group or a group of friends who meet weekly for coffee and conversation, a poker playing group. Take a class at Cornerstone; offer to lead a class. Invite a neighbor informally for coffee and conversation.
At least for me, these kinds of connections also help establish and support a sense of place, a sense of belonging and being grounded where I am.
Check out the opportunities for deeper connection here at church. There's Women's Connection, adult RE groups, dinner discussion groups, Body Life, OutReach, a book group, choir, and of course, you're always welcome to join a committee! When our new two-services format starts in August, the time from ten until eleven o'clock will be available for coffee and connection. There will be tables and chairs set up at the back of the sanctuary to facilitate more comfortable visiting. What opportunities for greater connection would you like to see? If you have ideas, let Reverend Seth, the Board, or me know. I can't promise they'll happen, but I can pretty much guarantee they won't happen if no one knows about them!
~Rev. Julia