Our Mission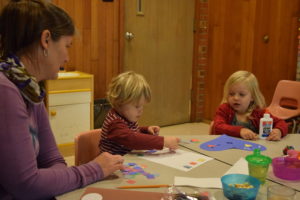 In our Religious Education program, our main goals are to help our youth explore their Unitarian Universalist (UU) identities and empower them to live UU values of inclusive love, justice, and compassion.
Our Religious Education (RE) program provides a place where children and youth can explore and discover their own religious identity and beliefs. We strive to create opportunities to develop deeper questioning and foster a community that promotes exploration, joy and wonder.
Sunday Morning Schedule
Nursery: The nursery is available every Sunday in the Green Room from 8:45 to 12:30 for infants and toddlers through the age of two.
During the first service ~ 9:15am-10:15am
Childcare is available for preschool children during the first service from 8:45-10:45 in the Blue Room. Children and youth in K-12th grade will begin in the service. Following the Story for All Ages, a multiage class for grades K-12th will be held in the Yellow Room. We will be using the theme-based curriculum Soul Matters, which will correspond with the monthly theme in the service. Class ends at 10.
During the second service ~ 11:15am-12:15pm
Religious Education classes for preschool through 12th grade will be held during the second service. The preschool class begins at 11:15, though children are welcome to arrive beginning at 11:00. Children & youth in grades kindergarten through 12th grade will begin in the service with their parents. Following the Story for All Ages, classes will begin. Classes end at 12:30pm.  Please see the Religious Education Prospectus for Children & Youth brochure, for more details on the curriculums each class will be using this year.
Forms & Information
You will find information on programming in our RE Prospectus for Children & Youth, the Unigram, and the Friday Eblast.  Please click on the links below for other RE-related documents:
First Time Visitors?
Welcome!  If this is your first time visiting us, check in with our membership coordinator, Megan Wenning, located at the Welcome Center in the foyer.  She will ask you to fill out a guest form and a temporary name tag and will introduce you to the Director of Religious Education (DRE) or the RE Associate (REA).  The DRE or REA will provide you with our RE Prospectus and a registration form and will give you a tour of the RE Wing and the classrooms your children will be attending (if they wish to join us in RE this morning). They are always welcome to stay in the service with you.
What to Expect on Sunday Morning
Children and youth in grades K-12th will begin in the service with their parents. A typical Sunday morning will include 15 minutes in the sanctuary with the congregation where they will share in the lighting of the chalice, hymns, and a Story for All Ages. Following the Story for All Ages, the congregation sings our children and youth out to their classes. Teachers will help guide your child to the appropriate classroom. Classes begin with a chalice lighting, sharing time, introduction of the theme for the day, a story/discussion, an activity/discussion, snack, closing words, and extinguishing the chalice. The theme for the day may be an ethical perspective, an insight from a particular or multiple world religions, be spiritually focused, or look to deepen and enhance UU identity. Reason and science are important tools we bring to each and every discussion.
Multi-generational Sundays
Every couple of months, we hold a multi-generational Sunday service, where children join their families for the entire youth-friendly worship service all together. Childcare is available in the Blue room for preschool and kindergarten children, as needed.  Multi-generational Sundays are always advertised ahead of time in the eBlast and Unigram.
Nursery and Preschool
The nursery is located near the side entrance and is designed especially for parents, infants and toddlers. A speaker in the room provides the sound from the worship service and contains two rocking chairs as well as a carpeted floor. Additional speakers and chairs are also available in the foyer. The nursery is available every Sunday morning from 8:45-12:30 in the Green Room for infants and toddlers two years of age. Our nursery is staffed by adult child-care providers during Sunday mornings and is free of charge. Families should provide our nursery staff with a labeled bag containing any items necessary for the care and comfort of their children, including diapers and wipes.
For preschool children three years of age and above, childcare is available in the Blue Room every Sunday from 8:45-10:45 for the first service. For the second service, the preschool class begins at 11:15 and ends at 12:15. Preschool children are welcome to arrive at 11:00.
How To Get Involved
Volunteer as part of a teaching team
Serve as a classroom aide on Sunday mornings
Serve as a youth advisor for our middle school youth group or high school youth group
Help with special events
Serve on the Children & Youth RE Committee
Share your gift or talent with the church
Provide snacks for Sunday morning classes or for Youth Groups
The Children & Youth Religious Education Committee
The Children & Youth RE Committee meets monthly and works directly with the Director of Religious Education to ensure a comprehensive faith development program for preschool through senior high.  The Committee is composed of classroom liaisons and coordinators for special events.
Still have more questions?
See if they are answered on our Children's Religious Education FAQ page!  If you don't find your answers there, please feel free to call the church office (765-288-9561) and ask to speak to our Director of Religious Education, Nadine Tringali, or e-mail her at nadine@uuchurchmuncie.org.
---
Summer & Special Programming
Summer Program
Our summer religious education offerings vary each summer and are multi-age – all children in one classroom.  Our 6-12th grade youth may choose to participate in the program, assist, or attend the service. Below you will find information about our 2017 RE Summer Program and our schedule.
UU World Travelers – 2017 RE Summer Program
This past summer, our RE program offered "UU World Travelers". Each week we toured a different country, learning about the culture, religion and history through a variety of activities. The class met for eight consecutive Sundays beginning on July 2.  The curriculum was designed for K-5th grade youth. Youth in 6th-12th grades were invited to participate, assist, or attend the service. Preschool youth were welcome to attend with a parent. Childcare was available in the Blue Room.
July 2                         John, Susan, & Sophie Taylor – Brazil
July 9                         Usha Shivaswamy – India
July 16                       Pam Harwood & Coly Tabberson – Australia
July 23                       Jennifer, Kendall, & Carter Hollems – Mexico
July 30                       Lisa Kuriscak – Spain
August 6                   Anne & Paul Stover – Madagascar
August 13                Julia Corbett-Heymeyer – Iceland
August 20                Diane Hill – Scotland
Youth Groups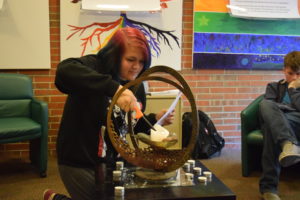 Unitarian Universalists believe that all people are precious and worthy of love. As this message can feel particularly difficult to connect to and necessary during our pre-teen and teenage years, we offer special programming to these age groups that honors their unique experiences during this transformational time in their lives. We gather for sharing what is most on our hearts and making meaning of our experiences. We gather to work together for justice in our communities and in the world. We gather to build community, play games and laugh together.
We currently offer both middle and high school youth groups that meet after church most Sundays.  For more information about our Youth Groups, please click here.
Our Whole Lives (OWL)
OWL is a comprehensive, developmentally appropriate sexuality education program developed by the UUA. OWL promotes informed and responsible decision-making, and sexual and emotional health in our communities. It fosters meaningful dialogue and parent-child communication. Grounded in a holistic view of sexuality, Our Whole Lives provides not only facts about anatomy and human development, it also helps participants to clarify their values, build interpersonal skills, and understand the spiritual, emotional, and social aspects of sexuality. For more information about our OWL programs, please click here.
Coming of Age
This special program is offered once every three years to our 6th-8th grade youth, designed to mark the transition from childhood to youth.What is a youth? A youth is someone who is not yet an adult, but is not a child either. A youth is someone in middle school or high school. By participating in Coming of Age, we hope that our youth will:
• Assume responsibility for their own physical, mental, and spiritual well-being;
• Gain self-confidence and realize that their feelings are valid and that their opinions matter;
• Expand their vision of the world by allowing them to encounter differing views, cultures, and life experiences;
• Understand they have an important role in their family, their church, and the larger community;
• Deepening their personal value system; and
• Realize they are non-judgmentally accepted in our church community, and that it is a safe place for them to be themselves.
Our next Coming of Age program will be offered in 2017-2018.  For more information about our Coming of Age program, please click here.
Boston Bound Heritage Trip
Our 7th-9th grade Boston Bound Heritage Trip is held every three years. We travel by plane to Boston the 2nd or 3rd weekend in June, departing on a Thursday morning and returning on Sunday evening. The youth participate in fundraising and community building, and learn about our UU history and what they will see in Boston. There are some must do's in Boston such as visiting the historic churches as well as attending a Sunday service, walking the Freedom Trail, and visiting the UUA headquarters. Additionally, we explore the city – ride the famous Duck Tour, see Faneuil Hall, and more!
Our next Heritage Trip will be in June 2019. The deadline for registration for our next trip will be  1, 2018, as our fundraising will begin in March 2018.