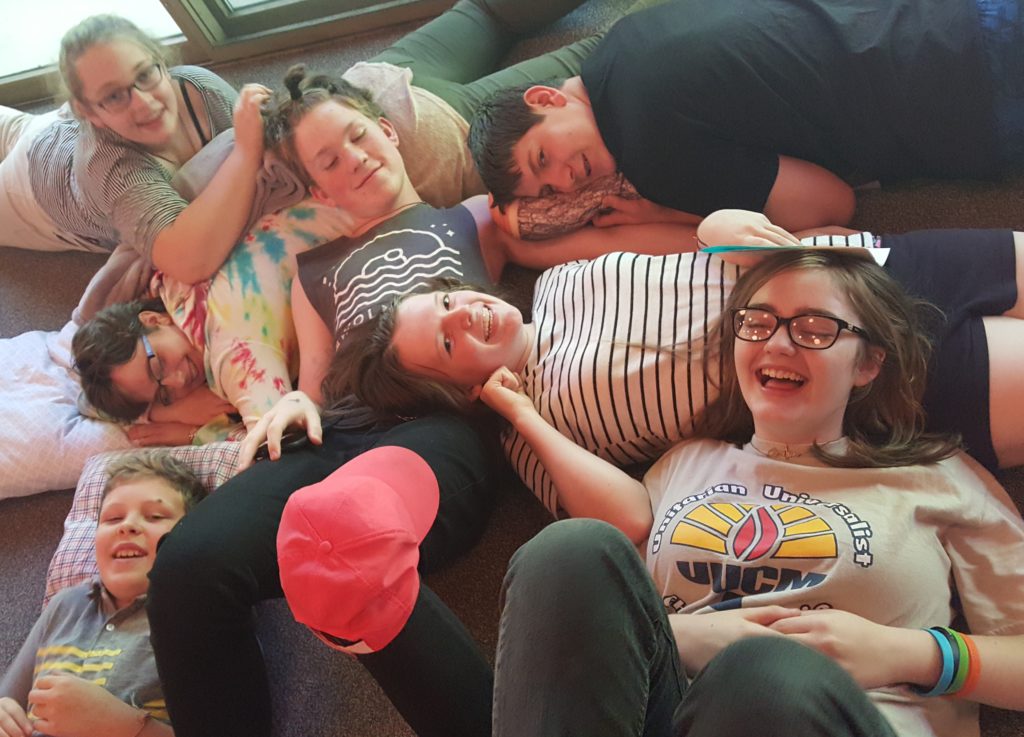 Unitarian Universalists believe that all people are precious and worthy of love. As this message can feel particularly difficult to connect to and necessary during our pre-teen and teenage years, we offer special programming to these age groups that honors their unique experiences during this transformational time in their lives. We gather for sharing what is most on our hearts and making meaning of our experiences. We gather to work together for justice in our communities and in the world. We gather to build community, play games and laugh together.
We value one another and the support we receive in community. Our regular meetings at the church center around a ritualized sharing of what is happening in our lives called Check-in. During this time we celebrate each other's joys together and support each other in our pain and burdens.  It brings us closer together and helps us to navigate the ups and downs of our lives.
Youth Sunday
Each year our youth create and present a Sunday worship service for the whole congregation called Youth Sunday. This is an opportunity for them to share a message that is particularly relevant to them and the larger community. It is a chance for the community to get to know them better and to be inspired by their wisdom. It is a way in which the congregation honors that they are not only our future, but are present leaders and teachers with particular talents and gifts to share.
Special Events
We also have special events throughout the year, such as field trips, community service opportunities, lock-ins, parties and regional conferences called CONs. Through these events we strengthen our community by sharing experiences with one another. Many of the events help us to explore our UU faith together – though some are just fun for the sake of fun!
Meeting Schedule
Due to the current makeup of our youth contingent, we are meeting both as separate Middle and High School groups on some Sundays, and combined into one large group on others. We meet almost every Sunday of the month in different groupings, 12:30-2 pm in the Violet Room, depending on other events and holidays, with lunch provided.  You can find our meetings and events on the church calendar.
Contact our Coordinator for Youth Programs, Rev. Elizabeth Carrier-Ladd, for more details or to be added to our mailing list: elizabeth@uuchurchmuncie.org