Green Living Task Force
The Green Living Task Force of the Social Justice Committee was formed in January 2014. Commonly known as "the Green team", its purpose is to lead creation care efforts in our congregation.  Current members of the Green Team are Wayne Meyer, John Taylor, Holly Hanauer, Marnee Cooley, Cheryl LeBlanc, and Eleanor Johnson.  New members are welcome and needed!
Our History
While many of our church members have long been committed to living more sustainably and are well-informed about the threats of climate change, we didn't have an official green committee.   In January 2014 a team from HIPL (Hoosier Interfaith Power and Light) presented a workshop at UUCM entitled "Using Energy Prudently – A Toolkit for Congregations."  Several of our members attended and learned specific ways that we could address energy efficiency challenges within our church building.  The workshop also addressed how to form a green team, and this was the push we needed to get started.
Our primary focus was energy efficiency within our church building. We studied a 2008 energy audit report and, in cooperation with the Property Maintenance Committee, began prioritizing improvements that could be made.
Going Solar!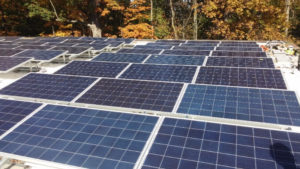 In December 2014, we became aware of the SUN grant for solar panels and began exploring this possibility.  We had long assumed that our location in the woods meant we had too much shade for photovoltaic energy production, but after a shade analysis by professional solar installers, we learned that our upper roof receives plenty of sun.  We then began the process of writing a grant application, formulating a plan to finance the remainder of the costs, presenting the plan to the congregation, receiving their approval to move forward, and finally, being awarded the grant in June 2015.   Our panels were installed in November 2015!
The video above is Switching to Solar at the "Church in the Woods,"  the mini-documentary produced for us by Wesley Rice-Snow, a young member of Interfaith Earth Care (our local HIPL chapter) that captured our process from start to finish.
Outreach
The Green Team is currently focused on outreach efforts related to our solar project.  We want to tell our story and encourage others to consider whether their church, business or home might be a candidate for solar panels.   A celebration and education event on February 28 included the premiere showing of Switching to Solar at the "Church in the Woods."
No More Styrofoam!
In December 2015, with assistance from the Kitchen Committee, a policy regarding Styrofoam use was formulated and then approved by the Board of Trustees.  Styrofoam is a product of fossil fuels and is not recyclable or biodegradable.  The new policy bans its use in our building.  We encourage people to choose better alternatives for disposable dinnerware, or better yet, use washable plates, glasses and silverware.
Next Steps
Future activities include continued work on our building's energy efficiency, especially thermostat setbacks & lighting.  We would like to implement HIPL's Task of the Month program, which challenges people to improve energy efficiency in their homes.
What Can You Do?
Consider solar power for your home, business, or church.  SIREN (Southern Indiana Renewable Energy Network) can help you learn the basics.  http://www.sirensolar.org
Learn the basics about climate change from this article:  Short Answers to Hard Questions about Climate Change.  http://goo.gl/B60cai
Continually take steps to make your home and your lifestyle more energy efficient.  This Lenten Carbon Fast Calendar lists 40 ways you can reduce your impact on the earth. http://www.hoosieripl.org/lenten_carbon_fast_temp
Join HIPL (Hoosier Interfaith Power & Light, www.hoosieripl.org) or the local chapter, Interfaith Earth Care (Jennifer Rice-Snow, rice.snow@att.net.)  Their mission is to "bring Hoosiers of faith together as stewards of creation in order to promote renewable energy, energy conservation and efficiency, as a faith response to climate change."
HIPL's local chapter, Interfaith Earth Care, will lead a home weatherization service project in Muncie in fall 2016.  Contact Jennifer Rice-Snow, rice.snow@att.net to volunteer.
Help the Sierra Club's Beyond Coal campaign for clean power in Indiana.  http://content.sierraclub.org/coal/indiana or contact Megan Anderson, their conservation organizer for the Muncie area, megan.anderson@sierraclub.org.
The UUCM Green Team is interested in offering to your church group, civic organization, neighborhood association, etc. a short program featuring the 7-minute video Switching to Solar at the "Church in the Woods" (view above). Contact Marnee Cooley, 284-0969,mariancooley@att.net,Wayne Meyer, 282-0967, munciemeyer@att.net, or Cheryl LeBlanc,cmvleblanc@comcast.net.
"For how many people do you think might yet stand on this planet before the sun grows cold? That's the responsibility we hold in our hands."

~ David R. Brower ~

"If the sun comes up, I have a chance."

~ Venus Williams ~