Feeding Our Hungry Neighbors Task Force
Our first task force, called Feeding Our Hungry Neighbors, is an example of building upon several already well-established programs in this area. Our hope is to further strengthen and expand those programs and to increase their visibility and staying power. The needs of our hungry neighbors in Muncie and Delaware Co. are, indeed, great and on the rise. Here are some of our congregation's efforts to eliminate hunger and improve nutrition in our community.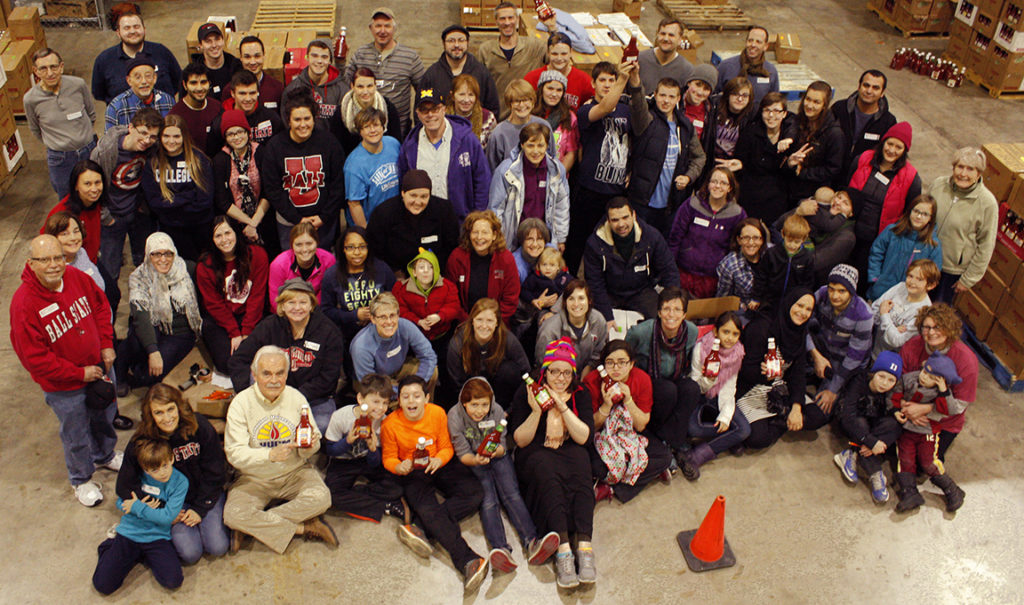 Helping at Second Harvest Food Bank Warehouse
On the third Monday of every month, UUCM members and friends volunteer from 10:00 am to 12:00 noon at the Second Harvest Food Bank Warehouse. We do whatever needs to be done that morning, from bagging apples to sorting through donated groceries. It's all in an effort to help prepare donated food for distribution to those who are food-insecure. MLK Day of Service is a particularly popular day to volunteer, and a large number of UUs turn up to lend a hand. For more information, contact Susan Taylor (susantaylor68@hotmail.com).
Meals for the Christian Ministries Sleeping Room
For many years, with the ongoing leadership of Linda and Connie Gregory, Unitarian Universalist volunteers have prepared and served (and often contributed the supplies for) breakfast and supper during the weeks around Thanksgiving and Christmas at this shelter for homeless men in downtown Muncie. This organization also operates a food pantry and shelters for homeless families and women. Its current needs are greater than ever.
Box Lunches for the Harvest Soup Kitchen
For many years, on the last Sunday of each month at 9:30 a.m., a small group of UU volunteers make simple lunches to go and deliver them on Monday morning to the Harvest Soup Kitchen located at the old St. Lawrence school on East Charles St. This dedicated group, led for a long time by Marian Cooley, could definitely use more help.
Lunch Preparation at Harvest Soup Kitchen
A few UU volunteers (including chef Kirk Robey and Bea Sousa) are part of the Friday crew which prepares hot and hearty lunches for up to 100 guests on Friday mornings. (Other groups cover the other days of the week.) A wide range of food donations support our work–from Ball State, Ivy Tech, Marsh, Lahody's, Little Caesar's Pizza, and the Wednesday vendors at the Farmer's Market, to name a few. We also receive free produce and staples at a reasonable cost from Second Harvest Food Bank.
Every. Single. Sunday. Food Drive
In an effort to help the food insecure within the friends and members of our own church community, we bring items to donate to our food pantry Every. Single. Sunday. Baskets are available on the way into the sanctuary before the service to receive your donations of canned or shelf-stable food goods, as well as toiletry items and cleaning products. Our youth bring these donations forward during our church service as a reminder of how we live out our social justice ideals.
Show you care! When you shop each week, please add some of these to your cart:
Proteins – peanut butter, canned chicken or tuna, canned beans
Fruit – peaches, pears, applesauce
Vegetables – yams, green beans
Carbohydrates – pasta mixes (complete meals), corn muffin mixes
Toiletries – shampoo, toothpaste and toothbrushes, toilet tissue, laundry and dish soap in small containers, razors
Read the eBlast each week for specific suggestions for items needed based on the current supplies in our church food pantry.
Gaps in our church food pantry will be filled first before taking extra items to Christian Ministries Food Pantry.
Those in need may visit our food pantry on Sundays before or after the service, and Tuesdays at the 6:00 pm Body Life dinner.
Wondering when we do this? It's Every. Single. Sunday.