Unitarian Universalists are active not only locally, but nation-wide as well.  There are many opportunities to participate in Unitarian Universalist-specific social justice activities and organizations, depending on your interests.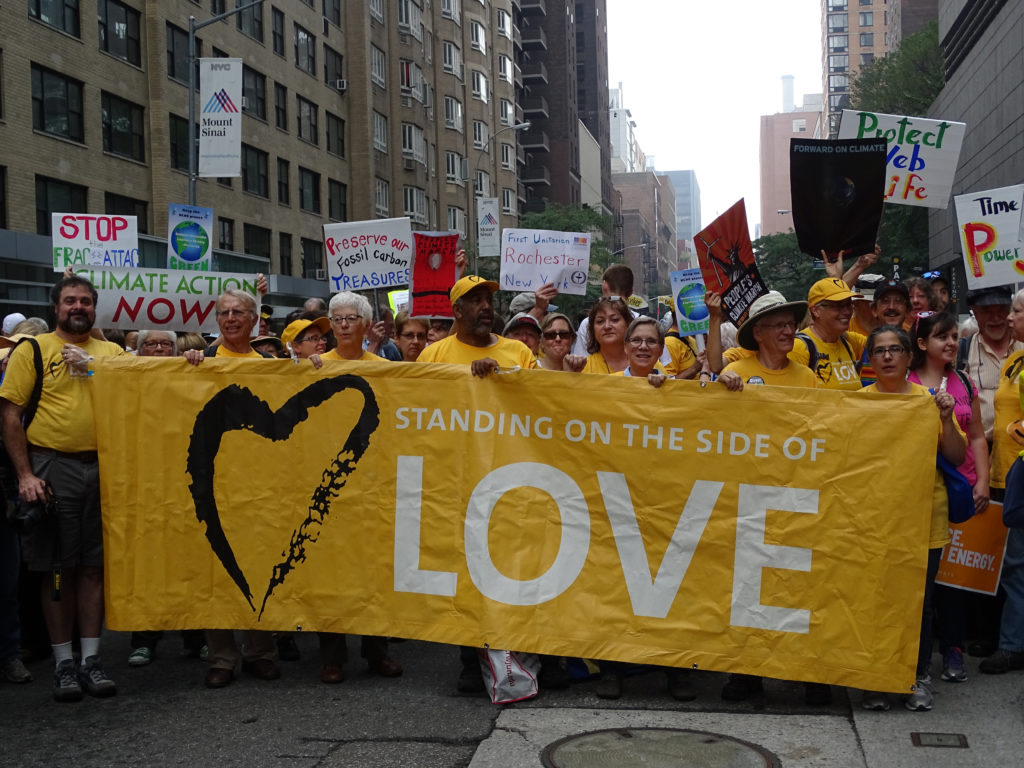 Standing on the Side of Love (SOSL)
The Standing on the Side of Love campaign, born out of the slogan and hymn by Rev. Jason Shelton of the same name, was launched after the 2008 shooting at Tennessee Valley Unitarian Universalist Church in Knoxville, which was targeted because they are welcoming to LGBTQ people and have a liberal stance on many issues. The Knoxville community responded with an outpouring of love that inspired the leadership at the Unitarian Universalist Association (UUA) to launch our campaign in 2009, with the goal of harnessing love's power to challenge exclusion, oppression, and violence based on sexual orientation, gender identity, immigration status, race, religion, or any other identity.  SOSL now has three primary campaigns, focused on immigrant justice, LGBTQ equality, and racial justice.  The yellow t-shirts and banners though, as see in the photo to the right, are used by Unitarian Universalists everywhere in justice campaigns of all stripes and colors.
Unitarian Universalist College of Social Justice (UUCSJ)
The Unitarian Universalist College of Social Justice's mission is to help Unitarian Universalists deepen and sustain the work of justice in their congregations and communities. One way to accomplish this is through experiential learning: programs that help people cross boundaries, gain insight, and imagine new ways to bring their faith together with their yearning to make a difference in the world. The college offers experiential learning journeys and social justice training grounded in the UU faith's historic commitment to human rights. UUCSJ programs offer participants intensive engagement with justice work along with the tools they need to bring the experience home again.
Unitarian Universalist Service Committee (UUSC)
The Unitarian Universalist Service Committee advances human rights through grassroots collaboration. In more than a dozen countries throughout the world, UUSC fosters social justice and works toward a world free from oppression. UUSC's innovative approaches and measurable impact — in promoting economic justice, bolstering environmental justice, and protecting rights at risk — are grounded in the belief that all people have inherent power, dignity, and rights.