The eBlast
The eBlast is our weekly e-mail update that comes out on Fridays, featuring information about the upcoming Sunday – details about the sermon topic, Religious Education classes for children, youth and adults, and other Sunday activities – as well as upcoming church events the following week.
Click here to access the eBlast archive, including the most recent one from last Friday.
Sign up to recieve our weekly eBlast now!
---
The Unigram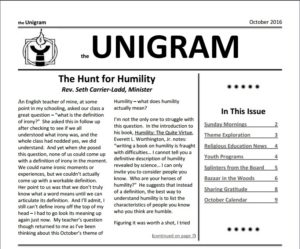 The Unigram is our magazine-style monthly newsletter, featuring longer form articles based on the monthly theme.  It also has updates about Religious Education programs and other activities happening at church for the upcoming month.
Click here to read the latest version online (note: the table of contents, continued on, and continued from items are all clickable links).
Click here to access the archives.
Click here to read featured articles from the Unigram.
Sign up to receive the Unigram electronically now!
If you wish to receive a print copy of the Unigram, please e-mail your request to uucm@uuchurchmuncie.org and include your mailing address in the body of your e-mail.